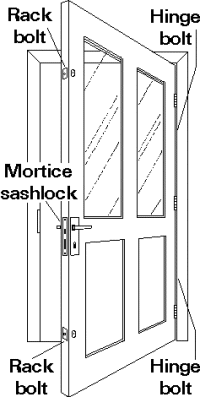 The door should be fitted with a 5 lever 2 bolt mortice sash lock halfway up the door, (a deadlock with a handle for convenience). Unlike front doors, many insurance companies do not specify that they should be to British Standard 3621 or equivalent European Standard EN 12209, though the use of this standard of lock is recommended.
The sash lock should be supplemented by mortice rack bolts (bolts fitted approximately 150mm (6″) from the top and bottom of the door into the wood and operated internally) or surface-mounted locking bolts top and bottom. They should always be fitted at 90º to the grain of the wood, reducing the likelihood of the wood splitting if subjected to pressure.
Any glass panels should be laminated and fitted from the inside to prevent the putty or beading being removed. Grilles could also be fitted to the inside of the panels.
For more advice and a professional service call Horsham Locksmiths now on 01403 261466
This information has been provided by the Metropolitan Police, more details can be found on their website at www.met.police.uk/crimeprevention/