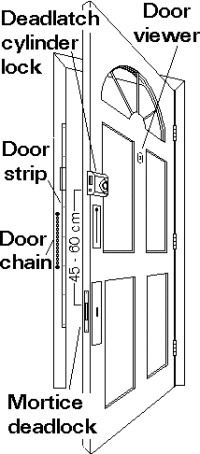 A rim latch (Yale type) on its own is not sufficient. The door should also be fitted preferably with a 5 lever mortice deadlock, though insurance companies will accept a rim automatic deadlock; both must be to British Standard 3621 or the equivalent European Standard EN12209.
Quality locks are only as strong as the doors and frames to which they are attached. Ensure that the frame is sound and the door suitable for external use; for instance, a wooden hollow core door would not be suitable.

It should be of substantial construction, at least 44mm (13/4″) thick to support the mortice lock and hung on three strong 100mm (4″) hinges. The rim latch and the mortice should be fitted 45 to 60cm (18-24″) apart. In the door itself, recessed or decorative panels should be a minimum of 9mm (1/3″) thick.
Consider fitting a London Bar (metal strip on frame side) to support the strike box, or Birmingham bar to support the frame on the hinge side. If the door is weak consider fitting a sheet steel plate or door reinforcer on the outside covering the lock area.
Timber frames should be sound and securely bolted or screwed to the walls every 600mm (23″) around the whole frame.

Doors with glazed panels are inherently less secure than solid doors, hence the need for a deadlock. Consider replacing ordinary or toughened glass panels with laminated glass – two pieces of glass bonded together with a sheet of laminate – as they offer much greater resistance to attack.
For more advice and a professional service call Horsham Locksmiths now on 01403 261466